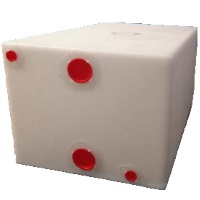 35 Gallon Blank Water / Waste Holding Tank
Specifications
Dimensions
48.75"L x 23"W x 8.5"H
Description
35 Gallon Blank Water / Waste Holding Tank
Trionic Marine & RV 35 Gallon Water or Waste Holding Tank
Trionic offers an extensive line of holding tanks which can be used for fresh water or waste water applications that meet size and durability requirements. All tanks are rotationally molded of a seamless one piece, non-corrosive linear polyethylene. Each tank fully complies with FDA regulation CFR 177.1520 and meets Coast Guard regulations.
Ordered Blank Will Have No Holes. You will need to install the fittings.
Each Water/Holding tank has (2) 1-1/2" FPT and (2) 1/2"FPT openings. Openings on all tanks are female National Pipe Threads (NPT) and are located on one end of the tank.
All tanks are 3/8" wall thickness +/- 1/16".
All tanks are 3/8" wall thickness +/- 1/16".
NOTE: Bottom of tank should be fully supported when installed and use 12" minimum length of flexible hose to hose barb fittings.
Custom fittings are available on Trionic tanks for orders of 5 or more of the same tank.
Trionic Tanks are for storage and are not designed to be pressurized.
Popular uses: RV, Boats, Concession Trailers, Tiny House, Custom, Food Trucks, Toy Haulers, Sail Boats, Yachts