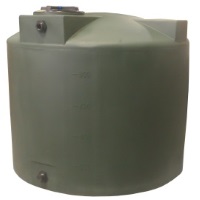 1000 Gallon Poly-Mart Plastic Water Storage Tank
Specifications
Dimensions
75" dia. x 65"H
Description
1000 Gallon Poly-Mart Plastic Water Storage Tank
Poly-Mart 1000 Gallon Plastic Water Tank
1000 Gallon Poly-Mart Plastic Water Tank Includes:
16&quot Vented Manway
1-1/2" Female NPT Threaded Bulkhead Inlet Fitting
2" Female NPT Threaded Bulkhead Outlet Fitting
Complies with U.S. Food and Drug Administration regulation 21CFR 177.1520 (1) 3.1 and 3.2 for storage of potable water.
Black, Dark Green, Dark Grey & Dark Brown colors limit the most light penetration, reducing waterborne algae.
Plastic Water Tanks can not be pressurized. Plastic Water Tanks are designed for water storage use only.
Colors:
Black, Dark Green, Dark Grey, Dark Blue, Brick Red, Olive Green, Dark Brown, Light Blue, Light Brown, Light Green, Light Grey, Natural & Beige