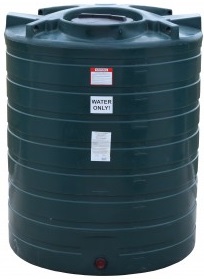 870 Gallon Enduraplas Plastic Water Storage Tank
Specifications
Dimensions
60" dia x 78" H
Description
870 Gallon Enduraplas Plastic Water Storage Tank
870 Gallon Vertical Water Storage Tank
870 gallon vertical plastic water tanks are FDA approved for fresh potable drinking water storage. In recent years they have become quite popular with the rainwater collection industry providing year round irrigation. With built-in UV inhibitors prolonging the life of your tank, one should expect 20+ years on the tank lifecycle.
870 Gallon Vertical Water Storage Tank Features:
16" Vented Lid
2" Inlet / Overflow Fitting
2" Female Threaded Outlet Fitting
Molded-In Gallon Calibrations
Rotomolded using FDA approved polyethylene plastic resin.
Available Colors: Dark Green, Black, Beige, Mist Green
This is a 1.1 specific gravity (approx. 9 lbs. per gallon) water weight tank. Water weighs approx. 8 lbs. per gallon.