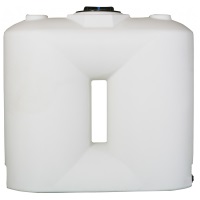 750 Gallon Doorway Water Tank
Specifications
Dimensions
82"L x 35"W x 85"H
Description
750 Gallon Doorway Water Tank
750 Gallon Doorway Tank
750 Gallon Doorway Tank is food grade for water storage yet strong enough to hold materials up to 12 and a half lbs. per gallon.
Great for Potable Drinking Water Storage. Irrigation. Rainwater Collection. Fire Protection & more.
750 Gallon Doorway Tank Price Includes:
16" Vented Manway
2" female threaded npt bulkhead fitting outlet with siphon on 35" end.
Tanks are translucent white with gallon markers.
This tank is rated to hold up to 12.5 lbs. per gallon (water is approx. 8 lbs. per gallon) - 1.5 Specific Gravity
Tie Down Straps Are Not Available For This Item.