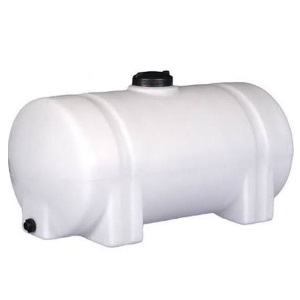 65 Gallon Horizontal Leg Tank
Specifications
Dimensions
43"L x 23"Dia. x 26"H
Shipment
Ships From
MN, OH, GA, OK, UT, NY, WA, IA, CA, TX
Description
65 Gallon Horizontal Leg Tank
65 gallon horizontal leg tank is manufactured from linear polyethylene in one piece. seamless construction. this tank series is designed for storage and non-DOT regulated transport applications. UV stabilized for outdoor usage.  
Designed to handle contents  up to 12 and a half lbs. per gallon (water is approx. 8 lbs. per gallon)
Excellent impact and chemical resistance.   
Resin complies with U.S. Food and Drug Administration regulation 21 CFR 177.1520 (c) 3.1 and 3.2.  
Translucent white for visible content level.  
Steel bands sold separately.
5" Vented Lid
3/4" Outlet (NPT Bulkhead Fitting)
Used primarily for water transport and nursing applications. horizontal leg tanks feature molded-in legs that act as "baffles" to reduce sloshing.
Maximum Outlet Fitting Size - 2"