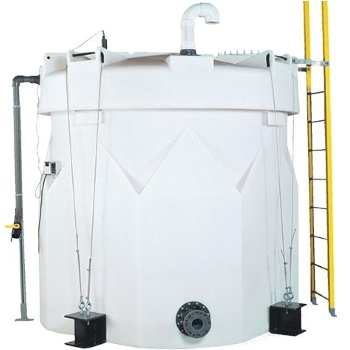 4000 Gallon Double Wall Tank 1.5 S.G.
Specifications
Manufacturer
Snyder Industries
Description
4000 Gallon Double Wall Tank 1.5 S.G.
4000 Gallon Captor Double Wall Liquid Storage Tank
4000 Gallon Snyder Industries Captor Double Wall Liquid Storage Tank Includes:
18" Threaded Manway Comes Standard (Bolted and Threaded Manways are available in sizes up to 24" by request.)
Molded In Tie-Down Lugs (interface with optional cable restraint system to meet seismic and 150 mph wind load requirements.)
Provides 115%-120% containment of inner tank's capacity.
Resin complies with U.S. Food and Drug Administration regulation 21 CFR 177.1570 (c) 3.1 and 3.2.
Through tank fittings available by request.
Outer containment of the double wall tank complies with federal regulation 40CFR-264.193 capacity requirements.
This tank is made from High Density Linear Polyethylene. It is also made in crosslinked linear polyethylene by request.
Optional Fittings Include:
Flanged Outlets (Can be securely fastened and sealed to many of the large flat areas located on the top section of the tank.
Fill and/or Draw Pipe Assemblies (can be installed to facilitate different material loading or un-loading requirements.)
U Vent Assemblies (available in a variety of sizes to relieve vacuum pressures.)
U.F.O. (Unified Fitting Outlet)(uniquely designed to mechanically seal fitting outlet through both the inner and outer tank walls. Material unloading is easier and more cost effective than pumping contents from the top of the tank.)
OSHA Approved ladders are available with and without cages in fiberglass and steel construction.
Double Wall Tank Construction encloses and interlocks outer and inner tank to prevent rain, snow, and debris from entering outer containment tank.
Captor Double Wall liquid storage tanks can not be pressurized. This double wall liquid storage tank can hold liquids with a material weight up to 12.5 lbs. per gallon (1.5 specific gravity rating). (Water weighs 8.34 pounds)
Simplex Part Number: CCS4000-1.5