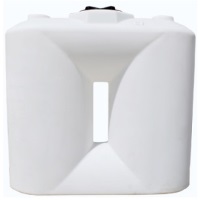 400 Gallon Doorway Water Tank
Specifications
Dimensions
66"L x 29"W x 70" High
Manufacturer
Snyder Industries
Description
400 Gallon Doorway Water Tank
400 Gallon Snyder Doorway Water Closet Tank
400 Gallon Snyder Water Closet Tank Includes:
18" Vented Manway
1 1/4" Female Threaded NPT Outlet Fitting on The 29" End
This tank sits flat on the ground.
Tie down bands are not offered on this item.
non DOT approved
This tank is made to hold water only.
400 Gallon Doorway Water Closet Tank Great for Safe Potable Drinking Water Storage, Irrigation, Rainwater Collection, Fire Protection & more.
Simplex Part Number: WC2MP (1030400W94302)
Manufacturer Note: Outlet fitting size was changed from 2 to 1 1/4 Oct 2016