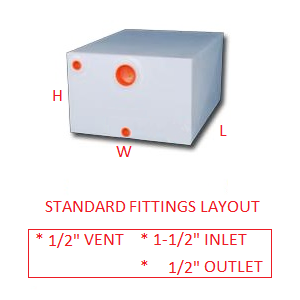 375 Gallon Marine Water Tank
Specifications
Dimensions
96"L x 30"W x 30"H
Description
375 Gallon Marine Water Tank
375 Gallon Marine Water Tank
375 Gallon Marine Water Tank
FDA approved food grade polyethylene plastic.
Translucent white color allowing for level visibility
Marine Water Tank Fitting Options:
Standard Fitting Package: 1-1/2" Female NPT Top Center Inlet, 1/2" Female NPT Bottom Center Outlet, 1/2" Female NPT Top Corner Vent Fitting
Blank Tank - You can purchase the tank with no fittings and install your own.
Build a Tank Option - For an additional Fee fittings (NPT female fittings) will be installed per your instructions. (You will need to fill out the blank fitting drawing indicating fitting sizes and locations.)
Marine Water Tanks are NOT Made For Fuel Usage
For use on boats, cruisers, pontoons, power boats, yachts & more
This tank upon order can not be cancelled and are non refundable.
Custom Roto RV & Marine Tank Warranty Info.