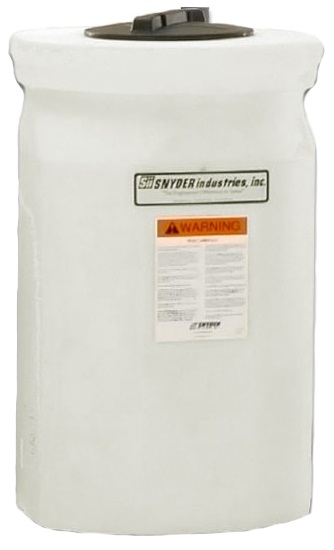 35 Gallon Double Wall Tank 1.9 S.G.
Specifications
Manufacturer
Snyder Industries
Description
35 Gallon Double Wall Tank 1.9 S.G.
35 Gallon Double Wall Liquid Storage Tank - Mini Captor Tank
 35 Gallon Snyder Industries Double Wall Liquid Storage Tank Includes:
6" Vented Manway
Provides 120% containment of inner tank's capacity.
Resin complies with U.S. Food and Drug Administration regulation 21 CFR 177.1570 (c) 3.1 and 3.2.
Through tank fittings available by request.( thru sidewall fittings at 0, 90, 180, and 270 deg )
Outer containment of the double wall tank complies with federal regulation 40CFR-264.193 capacity requirements.


This tank is made from High Density Linear Polyethylene. It is also made in crosslinked linear polyethylene by request.

Optional Fittings Include:
Top Draw-Tube Assembly (allows materical contents to be safely dispensed from the top of the tank.)
2" Vent (provides pressure vacuum relief for the interior tank)
Bottom Transition Fitting (Allows sidewall safe installation and long-term sealing power through both walls of tank)
Double Wall liquid storage tanks can not be pressurized. This double wall liquid storage tank can hold liquids with a material weight up to 15.83 lbs. per gallon (1.9 specific gravity rating). (Water weighs 8.34 pounds)




Simplex Part Number: DCT35

The largest bulkhead fitting that can fit in through the top lid of this tank is 2"