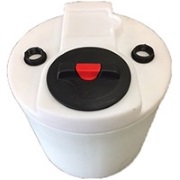 35 Gallon Double Wall Tank
Specifications
Dimensions
25"dia. x 28-3/4"H
Manufacturer
Ronco Plastics
Description
35 Gallon Double Wall Tank
35 Gallon Ronco Dual Containment Tank
Ronco has been in the plastic industry for over 30 years and continues to provide a great product. All tanks are made in the USA and come with a 1 year repair and replacement warranty.
Tank Specifications:
Lid Size:
8" Manway
Top Openings:
(2) 2" FNPT
Lower Drain Fittings:
Call For Options
Specific Gravity:
1.5
Material:
Polyethylene
Gallon Markers:
No
UV Inhibitors:
No
Colors:
White
Double Walled Tanks are for storage and are not designed to be pressurized.