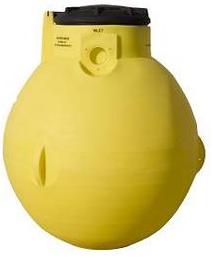 300 Gallon Plastic Septic Pump Tank
Specifications
Manufacturer
Ace Roto-Mold "Den Hartog"
Description
300 Gallon Plastic Septic Pump Tank
300 Gallon Plastic Septic Pump Tank
MAY BE COMPLETELY DRAINED AND LEFT IN THE GROUND EMPTY
(INLET & OUTLET FITTINGS NOT INCLUDED IN PRICE, MUST BE ORDERED SEPARATELY)


Pump Tanks are furnished with a watertight domed lid and include PUMP STAND molded into the bottom of the tank.

Pump Tanks are manufactured by means of the rotational molding process, which produces a one-piece, seamless, watertight tank. Polyethylene is unaffected by soil chemicals and by the chemicals and gases present in sewage, so plastic septic tanks will not rust or corrode.
Includes:

20" MANHOLE ACCESS W/ WATERTIGHT LID

Manufactured from high-density polyethylene with U.V. inhibitors.

Custom-molded gasket in the lid Manufactured from extruded Nitrile rubber, the gasket snaps into the lid and ensures a watertight seal. Exclusive lid design locks in place with nylon ties, eliminating the need for metal fasteners that can corrode and fail.