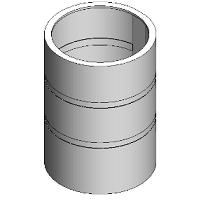 500 Gallon PE Open Top Cylindrical Tank
Specifications
Dimensions
48" dia. x 67" High
Description
500 Gallon PE Open Top Cylindrical Tank
Custom Roto-Molding 500 Gallon Open Top Polyethylene Storage Tank
500 Gallon Custom Roto-Molding Open Top Polyethylene Storage Tank Includes:
Complies with U.S. Food and Drug Administration regulation 21CFR 177.1520 (1) 3.1 and 3.2 for storage of Potable water.
Translucent white allows for level visibility
Lid Option Available
Operating temperature up to 140° F.
Self Supporting
Popular Uses:
Mixing
Containment
Aquaponics
Fittings Installed By Request


Ship Notes:Class 300, One per pallet. Add 45 lbs. for pallet. 20.00 for Pallet.