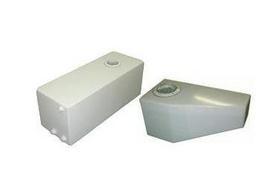 25 Gallon Marine Water Tank
Specifications
Dimensions
62"L x 14"W x 7 1/2"H
Manufacturer
Ronco Plastics
Description
25 Gallon Marine Water Tank
25 Gallon Marine Water Storage Tank - Fresh Potable Drinking Water
RW-B546, 25 gallon marine fresh water holding tanks are FDA approved for fresh potable drinking water storage.  Yes, these tanks can also be used for marine toilet (head) holding tanks, greywater and blackwater situations.    
Perfect for storage of fresh drinking water.
Rotomolded using FDA approved polyethylene plastic resin.
Tank dimensions can be rotated to meet your needs.
Tanks start blank and can be shipped blank with no fittings installed or custom fittings can be installed per your request (Any Location, Any Size)
*Mounting straps are not offered on this item.
*Not intended for gasoline fuel storage.
*If needed we will create a custom tank for your project.