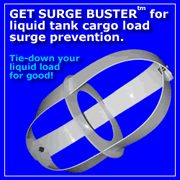 (25) 15'' SurgeBuster (Lid Size 16''+)
Specifications
Manufacturer
Surge Control Systems
Description
(25) 15'' SurgeBuster (Lid Size 16''+)
With reduced tank surge it vastly improves safety of transporting liquid loads.
Fits in tanks with lid size greater than 15".
Requires 1 unit per 32 gallons of tank capacity.
Approximate dimensions of assembled unit is 15"x27".
Displacement: Approximately 8 gallons per 1000
Approved by F.D.A. for food grade and Potable water applications.