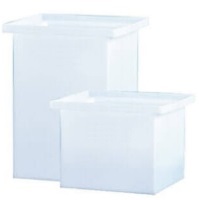 41 Gallon PE Open Top Rectangular Tank
Specifications
Dimensions
24" L x 18" W x 24" H
Manufacturer
Ronco Plastics
Description
41 Gallon PE Open Top Rectangular Tank
41 Gallon Open Top Rectangular Polyethylene Plastic Tank
R-R241824A, 41 gallon rectangular open top plastic tank is a 1/4" - 3/8" wall heavy duty tank. Manufactured using FDA approved polyethylene resins, this tank can be used to store fresh potable drinking water, yet is strong enough to be used for heavier materials (chemicals, waste, septic).
It's a blank tank (no fittings or holes). We will install any fittings you ask for.
*Custom Steel Stand Available By Request.
*Not intended for gasoline fuel storage.
*If needed we will create a custom tank for your project.
Common Uses:
Plating Tanks
Acid Neutralization Tanks
Chemical Tanks
Rehabilitation Pools
Hydroponics
Fish (Koi, Tilapia, Aquaculture)
Dry Material Handling
DIMENSIONS LISTED ARE THE BODY OF THE TANK OUTSIDE DIMENSIONS. AT THE TOP THERE IS A LIP THAT EXTENDS APPROX. 1-1/2" OUT AND 1-1/2" UP
**We recommend a support stand on tanks over 18" high which tend to bow a bit when full.