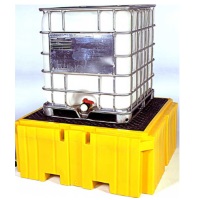 UltraTech IBC Spill Pallet PLUS (w/ drain)
Specifications
Dimensions
62" x 62" x 28"
Description
UltraTech IBC Spill Pallet PLUS (w/ drain)
UltraTech IBC Spill Pallet PLUS (w/ drain)
Low profile, 28" overall height - allows safe and convenient IBC tank handling and dispensing.
All polyethylene construction - offers excellent chemical resistance and will not rust or corrode.
Forkliftable - allows convenient positioning to desired locations.
Low cost design with value-added features and benefits.
Large 52" x 52" deck allows safe and convenient placement of IBC tanks.
Small footprint - 62" x 62" unit requires minimal floor space.
360-gallon sump capacity meets EPA Container Storage Regulations.
Four inner polyethylene columns support uniformly distributed loads of up to 8,500 lbs. All components are easily removed for cleaning.
Shipping Notes:
Ship Class: 150
Ship Weight: 324 lbs.