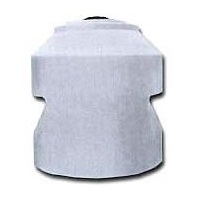 220 Gallon Vertical Plastic Storage Tank
Specifications
Dimensions
35" dia. x 63"H
Description
220 Gallon Vertical Plastic Storage Tank
220 Gallon Storage Tank for Sale
This tank has side indents for fork lift handling.
8" Vented Lid
1-1/2" Female NPT Threaded Bulkhead Outlet Fitting
Mobile Mini Bulk tanks are designed for the efficient handling and storage of in-plant chemicals.
These tanks are molded of linear polyethylene for durability and resistance to hazardous, corrosive chemicals.
Feature fork lift entry for convenient handling.
Side indent fork lift entry.
Durable all polyethylene construction.
Corrosion resistant.