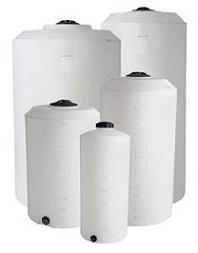 2150 Gallon Vertical Plastic Storage Tank
Specifications
Dimensions
102" dia. x 71"H
Manufacturer
Ace Roto-Mold "Den Hartog"
Description
2150 Gallon Vertical Plastic Storage Tank
2150 Plastic Storage Tank
 A-VT2150-102, translucent white 2150 gallon plastic storage tank includes:
  16" lid
  2" female threaded outlet fitting
  Gallon Indicators
  A-VT2150-102 is manufactured utilizing FDA compliant resins & is NSF Approved.
  Optional Colors or Additional Fittings Available By Request
Due to size, item will not roll into a LTL truck, for single shipments we recommend possibly stepping up to a 2500 gallon plastic storage tank or dropping down to a 2000 gallon plastic storage tank, which will allow for huge savings on freight cost.
Truckload Quantities: 8 tanks fill a flatbed, van or stepdeck, with room to spare for some smaller tanks.