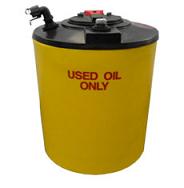 150 Gallon Double Wall Waste Oil Tank w/ Oil Level Gauge
Description
150 Gallon Double Wall Waste Oil Tank w/ Oil Level Gauge
150 Gallon Oil-Tainer®
150 Gallon double-wall waste oil tank with 110% secondary containment.
Hinged, lockable manway cover.
Won't rust, chip or dent.
Easy to clean with soap and water.
Translucent "Safety Yellow" containment tank for easy routine inspection.
Large Sink with debris screen and removable debris strainer.
Automatic overflow shutoff.
Oil level monitoring gauge.
2" external quick-release drain coupling.
Made of 100% Recyclable Polyethylene.
Meets the latest EPA standards for used oil storage containers (waste oil tanks) CFR 40-279.22
Includes Oil GaugeNote:
For outdoor use it is recommend running a bead of silicon caulk on the top edge between the two tanks to prevent water entering between the sidewalls.