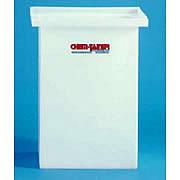 56 Gallon Rectangular Polypropylene Tank
Specifications
Dimensions
30" L x 18" W x 30" H
Description
56 Gallon Rectangular Polypropylene Tank
R182430B, 56 Gallon Rectangular Polypropylene Tank
Resin complies with U.S. Food and Drug Administration regulation 21 CFR 177.1520 (C) 3.1 and 3.2.
Excellent chemical and stress cracking resistance.
Operating temperature up to 212° F.
Open Top allows convenient mixing and filling.
We recommend a support stand on tanks with dimensions greater than 18" which tend to bow a bit when full..
Open Top polypropylene tanks are not recommended for cold temperatures or high impact applications.