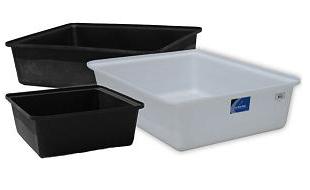 210 Gallon Rectangle Open Top Top Tank
Specifications
Dimensions
65" L x 53" W x 18" H
Manufacturer
Ace Roto-Mold "Den Hartog"
Description
210 Gallon Rectangle Open Top Top Tank
210 Gallon Rectangular Open Top Tank
210 Gallon Open Top Rectangle tank for indoor or outdoor stationary containment. This 210 Gallon Open Top Tank features a double wall rim around the perimeter for strength.
Tank Specifications and Features:
Hand holds are provided on each side for handling
Tanks nest together for transport and storage.
Tanks are designed for the containment of chemicals with a specific gravity of 1.7 or less.
Material:
Tanks are manufactured from rotationally molded polyethylene with U.V. stabilizers.