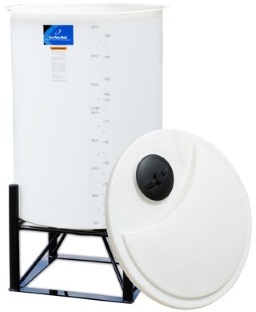 200 Gallon Open Top Cone Bottom Batch Tank
Specifications
Manufacturer
Ace Roto-Mold "Den Hartog"
Description
200 Gallon Open Top Cone Bottom Batch Tank
200 Gallon Open Top Cone Bottom Batch Tank

A-OC0200-36, translucent white 200 gallon open top cone bottom batch tank includes:

8" lid

2" female threaded outlet fitting

Gallon Indicators

A-OC0200-36 is manufactured from medium-density polyethylene with U.V. inhibitors and are designed for the containment of liquids up to 2.0 specific gravity.
Tank walls are translucent for level viewing and equipped with liter and gallon indicators.
Designed for indoor applications.
Open Top Cone Bottom Batch Tanks are designed for indoor applications. Perfect for batch chemical/mixer mounting systems as well as many other applications.
Hinged lid option is available
Tanks require stand for support.
Both polyethylene and metal stands are available for the Cone Bottom Batch Tanks.