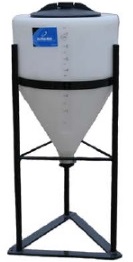 7 Gallon Inductor Tank (Fully Draining)
Specifications
Manufacturer
Ace Roto-Mold "Den Hartog"
Description
7 Gallon Inductor Tank (Fully Draining)
7 Gallon Fully Draining Cone Bottom Inductor Tank (55 Degree)
Ace Roto-Mold is a leading North American manufacturer of proprietary rotationally molded polyethylene inductor tanks for above ground water & liquid storage applications.
Tank Specifications:
Lid Size:
8" Vented Manway
Outlet:
full drain outlet with 1-1/2" female female pipe threads with a stainless steel hose clamp
Specific Gravity:
1.7 (14.17 lbs. per gallon)
Gallon Markers:
Yes
UV Inhibitors
Yes
Colors:
Natural White, Black, Others By Request
Metal Stand:
Yes - Stand Sold Separately
Slope Degree:
55
FDA Approved:
Yes
NSF Approved:
Yes
ANSI Approved:
Yes
Overall Height With Stand:
Approximately 33"
UPC #:
68570302008
Uses:
conical brewer beer/wine/tea, biodiesel tank, fermentation, chemical applications
Additional Fittings:
Available By Request
Popularity:
High
Availability:
Normally out of stock 3 week lead time. Unique item we don't have many options to switch on, if you need it we suggest you get it on order so your turn begins in line.
Inductor Tanks are for storage and are not designed to be pressurized. Fittings, valves and pipe connected to the outlet threads must be supported.