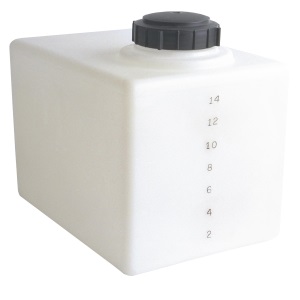 16 Gallon Rectangle Flat Bottom Tank
Specifications
Dimensions
21"L x 14"W x 14"H
Manufacturer
Ace Roto-Mold "Den Hartog"
Description
16 Gallon Rectangle Flat Bottom Tank
16 Gallon Flat Bottom Plastic Tank Features:
A-SP0016-MM Includes:
5" tank lid.
Gallon indicators.
A-SP0016-MM is manufactured from FDA compliant polyethylene resins.
Optional colors or additional fittings are available by request.
Tie down bands are not offered on this 16 gallon flat bottom tank.
Shipping Notes:
Ship Class: 150
Shipping Weight: 10 lbs.
Pallet Quantity: 6 to 24
Jim P.
- AL, United States
11 Feb 2013
I found the item I needed on the website, and received the item in just a few days.
Recommend this Company
Would Buy Again
Price
Product Satisfaction
Delivery Time