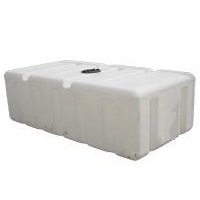 500 Gallon Plastic Loaf Tank
Specifications
Dimensions
92" L x 48" W x 31" H
Description
500 Gallon Plastic Loaf Tank
Norwesco 1800 Gallon Below Ground Water Tank
1800 Gallon Norwesco Below Ground Water Tank Includes:
Complies with U.S. Food and Drug Administration regulation 21CFR 177.1520 (1) 3.1 and 3.2 for storage of potable water.
Rotationally molded rugged one-piece tank with no seams to leak
No assembly required, reducing installation time and effort.
No special backfill or water filling required during installation.
May be pumped dry during pump-outs.
May be installed with 6" to 36" of cover.
Access openings and lids accept Norwesco low profile manhole extension, double-wall corrugated pipe and ribbed PVC pipe.