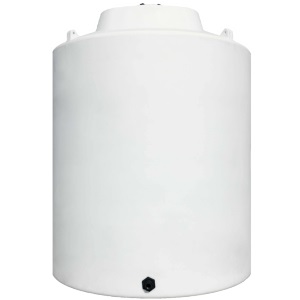 10000 Gallon Vertical Plastic Storage Tank
Specifications
Dimensions
141" dia. x 160"H
Description
10000 Gallon Vertical Plastic Storage Tank
With 82 years of experience in the market, Norwesco leads the industry of polyethylene tanks with impeccable customer trust and experience. Norwesco offers the highest quality products in the market along with the best reputation and commitment to customer satisfaction. Their wide variety of polyethylene tanks makes them the perfect choice for that industrial or personal project that one may have.
Vertical storage tanks are used for industrial, agricultural, and commercial chemical storage purposes. Liquids that can be stored in these tanks are Water, Calcium Chloride, DEF, Ethyl Alcohol, Ferric Chloride, Ferric Sulfate, Hydrochloric Acid, Biodiesel, Fertilizer, Phosphoric Acid, Polymers, Sodium Hydroxide, Sodium Hypochlorite, Sulfuric Acid, Urea, Brine, Agricultural Chemicals, Industrial Chemicals and many more.

This plastic vertical storage tank is built with rotationally molded polyethylene resin. Its production process makes it durable and resistant to cracks, chips, and ruptures. The poly tank was made with FDA-approved resin in compliance with FDA standards 21 CFR 177.1520 (1) 3.1 and 3.2 for use in food grade storage. It's made with UV inhibitors that help protect liquid contents from direct sunlight for both indoor and outdoor use.

The Norwesco 10000 gallon vertical storage tank has a specific gravity rating of 1.5 (12.51 lb /gal), making it safe for a variety of liquid storage solutions. It features a 22" threaded vented manway, and a 3" polypropylene female NPT bulkhead fitting outlet.

Norwesco includes in their vertical storage tanks a 3-year warranty. Additional fittings and customization options are available for this product. This plastic vertical storage tank is available in sizes from 22 to 20,000 gallons.
Norwesco 10000 Gallon Vertical Storage Tank includes:
22" Vented Lid
3" Female NPT Threaded Outlet with a 2" Reducer
Polyethylene resin is UV Stabilized
Made of polyethylene approved by the FDA for food contact
Tie-down slots
Molded-in Gallon Indicators
Natural Translucent White
3 Year Manufacturer's Warranty