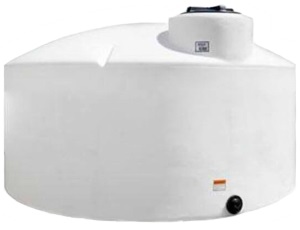 1100 Gallon Vertical Plastic Storage Tank
Specifications
Dimensions
87" dia. x 53"H
Shipment
Ships From
MN, OH, GA, OK, UT, NY, WA, IA, CA, TX
Description
1100 Gallon Vertical Plastic Storage Tank
1100 Gallon Vertical Plastic Tank
1100 Gallon Plastic Storage Tank Price Includes:
16" Manway & 2" female threaded npt bulkhead fitting outlet. (Outlet installed 90° to the right of the manway.)
Tanks are translucent white with gallon markers
Standard Color Natural White or Black (Additional Cost & Lead Time)
1.5 Specific Gravity - This tank is rated to hold up to 12.5 lbs. per gallon (water is approx. 8 lbs. per gallon)
Manufactured utilizing FDA compliant resins.