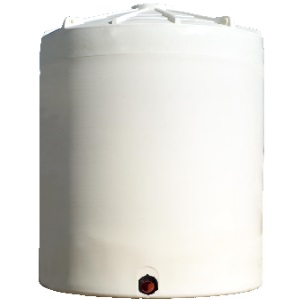 10500 Gallon Ace Roto Mold Vertical Plastic Storage Tank
Specifications
Dimensions
142" dia. x 177"H
Manufacturer
Ace Roto-Mold "Den Hartog"
Description
10500 Gallon Ace Roto Mold Vertical Plastic Storage Tank
10500 Gallon Plastic Storage Tank
A-VT10500-2500
, translucent white 10500 gallon plastic storage tank includes:
16" lid
3" female threaded outlet fitting
Gallon Indicators
A-VT10500-2500 is manufactured utilizing FDA compliant resins & is NSF Approved.
This tank conforms to the requirements of NSF/ANSI Standard 61 (Item Comes With NSF Sticker)
Available in dome top or gusseted top versions.
Optional Colors or Additional Fittings Available By Request
Parts Listed:
VT10500-2500 - Domed Top
GV10500-2500 - Gusseted Top
The largest lid that can be substituted on this tank is 22" (fee applies).