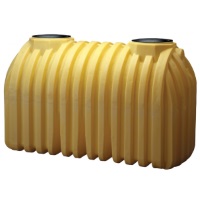 1000 Gallon Plastic Septic Tank - 1 Compartment
Specifications
Dimensions
102" L x 60" W x 63" H
Shipment
Ships From
MN, OH, GA, OK, UT, NY, WA
Description
1000 Gallon Plastic Septic Tank - 1 Compartment
1000 Gallon One Compartment Septic Tank - 2 Manways
Preplumbed with installed PVC tees and septic adapters
Important Note: Tank must be left 1/4 full at all times including installation.
Disclaimer: Tank is for below ground use only.
State Requirements & Approvals
Across the United States there are a number of health code requirements that our tanks must meet. These codes are regulated by the state. or county where you are located. To aid you in determining which tank you need. please consult with your local health department.
Septic Tank Standards:
Rotationally molded. one-piece. seamless. watertight tank.
Polyethylene is unaffected by soil chemicals. sewage gases.
Polyethylene tanks will not rust or erode.
Strict quality guidelines ensure an environmentally safe septic tank.
Schedule 40 plumbing connections.
Standard plumbing all local installers or contractors are familiar with.
Riser extensions not included
Great item for shipment; indestructible.

Frequently Asked Septic Tank Questions
1. Can I install a septic tank under a driveway?
No. installing the plastic septic tank under a driveway is not permitted and will void the warranty. Do not locate tanks beneath driveways or in the pathway of heavy or vehicular traffic areas.

2. Is there a sand/gravel mixture recommended for bedding/backfill?
Yes. the sand/gravel mixture. commonly called "pea gravel" mixture is recommended. (See Installation Instructions Above)

3. Can I use a septic tank above ground?
Underground plastic septic tanks are designed for below ground use only. Using the tanks above ground can result in deformation of the tank. It is far more cost-effective to utilize an above ground storage tank that is specifically designed for above ground use and applications.

4. Can hot water be stored in plastic septic tanks?
Do not subject the tank to water temperature higher than 100 deg F. Polyethylene storage tanks have a maximum storage temperature of 120 deg F. Contents with a temperature in excess of 120 def F. even for a short period of time. can weaken the tank's structural integrity and make it susceptible to deformation and failure.

5. How do you access underground plastic septic tanks?
Each plastic septic tank comes equipped with manhole access hatches (1 or 2 depending on tank). In addition. risers can be added to the top of the tank providing ground level access. Without a riser you would need to dig up the soil above the manway to gain accessibility.

6. Can I pick up a plastic septic tank nearby?
In many cases yes. To pick up a plastic septic tank and save on freight. requires you placing your order. Upon being notified that the tank is ready for pick-up. Plastic-mart will provide you with a 6 digit trip # which allows you go and pick up your tank M-F 8:30 am - 2:00 pm. Plastic-mart and the local manufacturers appreciate the opportunity to provide local pick up and the cooperation required for the process to be efficient.