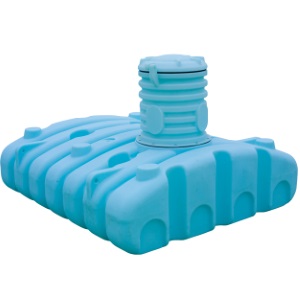 1000 Gallon Underground Water Cistern Storage Tank
Specifications
Dimensions
111"L x 98"W x 36"H
Manufacturer
Ace Roto-Mold "Den Hartog"
Description
1000 Gallon Underground Water Cistern Storage Tank
1000 Gallon Underground Cistern Water Storage Tanks
Ace / DenHartog Aquifer Low Profile Cisterns
Price Includes 28" Riser & Lid Ground Access Assembly
1000 Gallon Aquifer Low Profile Cistern Tanks are designed to provide a safe and durable means for the storage of potable or non-potable water. Their sectional ribbing design will sustain vertical soil pressures of up to 400 PSF. Tank can be buried up to 28 deep and can be backfilled empty. Multiple fitting locations are provided to accommodate a variety of plumbing configurations. Fitting flats on each end and one side of the tank will accept up to 4 fittings. Manufactured from FDA compliant resins and high-density polyethylene with U.V. inhibitors. Designed for the containment of liquids with a specific gravity of 1.7 or lower.
Tank Installation Guidelines
Please note: These Aquifer Low Profile Cisterns need to ship via flat-bed trucks. Unless delivery is to a state near/within Iowa, expect freight to cost as much as the Aquifer tanks themselves. These tanks also require the delivery site to have unloading equipment on hand. If delivering to a residence, please make sure your local DOT allows semi-trucks on local roads.