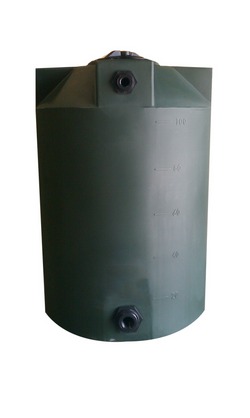 100 Gallon Poly-Mart Plastic Water Storage Tank
Specifications
Dimensions
30" dia. x 42"H
Description
100 Gallon Poly-Mart Plastic Water Storage Tank
Poly-Mart 100 Gallon Plastic Water Tank
PM100 is a 100 gallon potable water tank that includes:
8" Vented Manway
1" Female NPT Threaded Bulkhead Inlet Fitting
1-1/2" Female NPT Threaded Bulkhead Outlet Fitting
Complies with U.S. Food and Drug Administration regulation 21CFR 177.1520 (1) 3.1 and 3.2 for storage of potable water.
Black, Dark Green, Dark Grey & Dark Brown colors limit the most light penetration, reducing waterborne algae.
Plastic Water Tanks can not be pressurized. Plastic Water Tanks are designed for water storage use only.
Colors:
Black, Dark Green, Dark Grey, Dark Blue, Brick Red, Olive Green, Dark Brown, Light Blue, Light Brown, Light Green, Light Grey, Natural & Beige