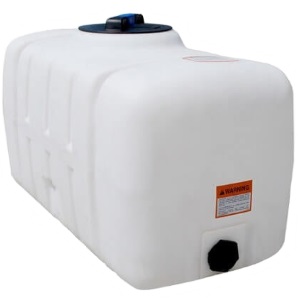 100 Gallon Flat Bottom Utility Tank
Specifications
Dimensions
43"L x 27"W. x 29"H
Shipment
Ships From
CA, GA, IA, MN, OH, OK, TX
Description
100 Gallon Flat Bottom Utility Tank
100 gallon plastic flat bottom utility tank is manufactured from linear polyethylene in one piece. seamless construction. this tank series is designed for storage and non-DOT regulated transport applications. UV stabilized for outdoor usage.  
Designed to handle contents  up to 12 and a half lbs. per gallon (water is approx. 8 lbs. per gallon)
Excellent impact and chemical resistance.   
Resin complies with U.S. Food and Drug Administration regulation 21 CFR 177.1520 (c) 3.1 and 3.2.  
Translucent white for visible content level.  
Support Bands Sold Separately
8" Vented Lid
1" Female NPT Bulkhead Fitting Outlet
Great for fresh potable water transport applications.
3 Year Manufacturers Warranty
Shipping Notes:
Ship Class: 250
Ship Weight: 41 Lbs.